Vilma Domavari holds a number of degrees and certifications, one of which is a qualification to teach.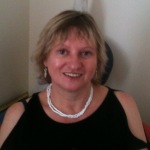 Teaching comes quite naturally for Vilma as she has many years of experience in teaching as she was a certified teacher for a technical school in her country of origin (Hungary).
Vilma is able to teach a number of courses, and shall offer more in the coming months. If you are interested in attending a workshop please contact The Vitality Clinic for upcoming workshop dates.
Life Prosperity and Financial Freedom presented by Vilma Domavari.
Vilma Telek Domavari has been a massage therapist and teacher for 18 years. In 1994, Vilma established the Telek Academy of massage Australia giving her 18 years experience in teaching and being a therapist in her own school.
Vilma holds a bachelor degree in teaching and librarian studies, diploma in event coordination, remedial massage and counselling. Vilma is also a successful Quit Cigarettes in 60 Minutes specialist and she is a certified presenter and co-author of the bestseller book: How to Get a Bigger Bite Out of Life.
Vilma is very dedicated to help people in their different aspects of their life to reach physical, emotional and financial well being